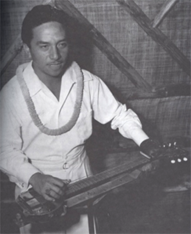 Every year about this time I reexamine Billy Hew Len's life and music – not only in honor of his January 18th birthday, but because he was one of the most recorded and most sought after sidemen in the history of Hawaiian music. His story is also an inspirational one – a tale of triumph over adversity. As a student of the steel guitar myself, I listen to Billy Hew Len for endless hours, and I aspire to attain his level of not only technical proficiency, but also creativity and inventiveness. But, alas, apparently I have a handicap. I have two hands.
Billy Hew Len only had one.
Like Gypsy jazz guitarist Django Reinhardt before him who reinvented his playing style after a caravan fire which left two fingers of his fretting hand paralyzed, Hew Len's accident was also the genesis of his distinctive style. Billy became fascinated with the guitar around the age of 10. When his cousin would leave for work, Billy would sneak into his room and "borrow" his cousin's guitar and play all day. (Some days he didn't sneak the guitar back in time, and his cousin would scold him.) At the age of 15, Billy quit school and went to work in a garage. And then, one day, a tragic accident… A planing machine took Billy's entire left hand – clear at the wrist. Thinking that any potential career in guitar was now over, Billy fell into a depression.
Billy's mother encouraged him not to give up and turned to anyone she thought might be able to help. Enter Edwin T. Morrell, an elder in the Mormon church who also worked with the disabled. He spoke to Billy and asked him what he liked to do, and the dejected lad said, "Ah, nothing." But his mother interjected, "Billy plays the guitar!" And Mr. Morrell promised that he would find a way to help Billy play the guitar again – even in his new, differently-abled condition.
Mr. Morrell took Billy to a leather shop – the kind that made saddles in those days. He explained Billy's situation and gave him a drawing of a device he thought would ultimately help Billy. And the leather worker made it: A glove that would fit snugly over Billy's wrist and to which they could attach the steel bar for which the steel guitar takes its name. Billy saw the glove but was only mildly encouraged. He expressed the practical concerns of a musician far more seasoned than his years should imply: How will I attain the vibrato that is the signature sound of the steel guitar and which begins and ends with the wrist? Will I have to shake my entire arm back and forth? And what about slants? Steel players slant the bar forward to create one kind of chord and slant it backward to create another kind of chord. How am I going to do that without a wrist?…
But, somehow, miraculously, and through no small effort, Billy did. And if you have ever seen the much too little video that exists of Billy playing (such as the Robert Mugge documentary Hawaiian Rainbow), you can easily see how Billy overcame the very real limitations he predicted. But more than that, you can see how he turned such limitations into the assets that became his unique playing style.
Billy went back and forth between instruments including a fry pan and several pedal steels. (The use of the pedal steel in Hawaiian music is often considered anathema to traditionalists. Only a handful of players from Hawai`i who dabbled in the pedal steel can be named off the top of one's head – Freddie Tavares, Ernie Tavares, Peter Dillingham, Billy Hew Len, and, occasionally, Jules Ah See and Barney Isaacs. Whether or not the pedal steel is "Hawaiian enough" is a controversial topic better left for another day. Suffice it to say, for now, that Hew Len used the pedals so sparingly and tastefully that it would be hard for anyone to argue that his playing was not "Hawaiian enough" – at least not that I have ever heard.) Billy played a unique tuning – a variation on A6th which he called "A6th added b5 added 9th" which appeared from bottom to top as:
G Bb C# E F# A C# E
(Notice the diminished 7th chord on the bottom strings!)
Unlike Hal Aloma (discussed elsewhere on this blog) about whom it is next to impossible to find any of his prodigious recorded output in the digital era, Billy Hew Len appeared on so many historically important recordings from Hawai`i that we find the vast majority of his recordings still available for listening through the popular streaming services (including Spotify, Tidal, Amazon Music, iTunes, and Apple Music). You simply have to know where to look! The problem with recordings made in that era is that the sidemen were rarely listed or pictured on the album covers. So I have spent many years identifying Billy Hew Len on record solely by ear and compiled the list of artists and album titles on which he appears for your education and listening pleasure.
A Brief Billy Hew Len Discography of Recordings Commercially Available in the Digital Era:
| | |
| --- | --- |
| ARTIST | ALBUM TITLE |
| Pua Almeida | Live at the Moana Hotel |
| Lena Machado | Hawaiian Song Bird |
| Bill Kaiwa | The Boy from Laupahoehoe |
| | More from Bill Kaiwa |
| | Bill Kaiwa Goes to Kauai |
| | This Is Bill Kaiwa |
| Frank & Cathy Kawelo | Frank & Cathy Kawelo |
| Myrtle K. Hilo | The Singing Cab Driver |
| | Will You Love Me (When My Carburetor Is Busted) |
| Kai Davis | Sings Old Hawaiian Favorites |
| Leinaala Haili | Leinaala |
| | Hiki No |
| | No Ka Oi |
| | Aloha Kuu Aina Hawaii |
| Myra English | The Best of the Champagne Lady |
| Billy Gonsalves | And His Paradise Serenaders |
| Jack De Mello/All Star Hawaiian Band | Steel Guitar Magic Hawaiian Style (with Barney Isaacs) |
But as delighted as we should be that there is so much available Billy Hew Len material for our consumption, there are still a great many more recordings on which he appeared that remain out of print in the digital era – classic recordings by Kekua Fernandes, Kealoha Kalama, Chick Floyd, Elaine Ako Spencer, Violet Pahu Liliko`i, and `Ilima Baker. Moreover, Billy Hew Len enjoyed a long association with his friend and musical partner Pua Almeida with whom he recorded four full-length LP records and countless 45 rpm singles for the then popular Waikiki Records label. None of these Waikiki Records sides have seen the light of day in the digital era. So, here forthwith, Ho`olohe Hou Radio presents an hour-and-a-half of Billy Hew Len for your listening and education – much of the material rare and out-of-print and available nowhere else in the digital era but right here. Click below to listen and continue reading below to learn more about the history of these recordings.
The first three recordings – "Ku`uipo Onaona," "Ka`ena," and "Mahina O Hoku" – are the earliest recordings in the Billy Hew Len discography. Recorded in 1952 for Terna Recordings of Honolulu, these selections feature Billy's longtime musical partner, Pua Almeida (who himself was a fine steel guitarist). What is amazing about these recordings is the sound quality for that era. Most recordings made in Hawai`i during this period were fashioned under somewhat makeshift conditions (such as various living rooms and kitchens). How Terna made these pristine recordings of Pua – as well as such artists as Andy Cummings, Haunani Kahalewai, and others – is unclear, and we may never know as the label was defunct almost as soon as it had begun. Fortunately for us, however, these recordings were not relegated to being trapped on an island in the middle of the Pacific. Terna licensed their masters to the West Coast label GNP Crescendo (known primarily for jazz, ironically), and these 78s were rereleased on an LP in 1959 titled Hawaii… A Musical Memento of the Islands. These recordings have been in print in one format or another – LP, cassette, 8-track, CD, and now as files streaming across the internet – ever since. (As an aside, a fourth recording by Pua and Billy was waxed in that 1952 session – Mel Peterson's "Rainbows Over Paradise." But unless the 78 rpm record is found in a private collection, it has been lost to the ravages of time.)
The next four selections are from Billy's second recording session dating to September 23, 1955 under the direction of one George Keoki. These recordings are a curiosity in that nobody with whom you will speak – in Hawai'i or beyond – recalls an entertainer by the name of George Keoki. (It is an unusual name, too, as "Keoki" means "George" in Hawaiian.) As often happened in those days, an artist under contract to one record label was forbidden to record for other record labels lest those releases compete with each other for sales or radio play. So many – not only in Hawai'i, but also in the worlds of pop and jazz – recorded for other labels under pseudonyms. If there is no such real person as "George Keoki," could it be another Hawaiian music legend incognito? In addition to the mysterious leader, the group – known as the Moana Serenaders – was an all-star aggregation including Sonny Kamaka, Kalakaua Aylett, and Billy Hew Len (the latter two also of Pua Almeida's group). Kalakaua takes the vocal lead on "Kaloaloa" and "Puamana," Sonny sings "Kuwili," and Billy sings "Hula O Makee." Billy Hen Len…the singer? Yes! Those who knew him claim that he could sing and sing quite well, but we have had rare opportunity to hear him take the vocal lead on record. These four lovely recordings have been out of print since they were issued on a Decca Records LP in the 1950s.
The next selection is not merely one of my favorite things Billy ever did or even one of my favorite pieces of Hawaiian music. I think it is one of the greatest things ever laid down in a recording studio. There is so much going on here that I don't even know where to begin… First, this is not a regular recording group. It is a once-in-a-lifetime all-star band under the direction of arranger Chick Floyd (arranger and orchestra leader for the TV show hosted by Lucky Luck). Here he is leading the best of the best in the 1950s Hawaiian music scene – including members of the Hawaii Calls orchestra and chorus featured on that weekly radio broadcast (the voices and instruments of Sonny Kamahele, his sister, Iwalani Kamahele, Pua Almeida, and Sonny Nicholas), the Tahitian drummers that performed nightly in the Polynesian show at Don the Beachcomber's (where Chick Floyd was the musical director), members of the Martin Denny group (such as Willard Brady, Augie Colon, Harvey Ragsdale, and Julius Wechter) that was experimenting with combining traditional Hawaiian music with the instruments and rhythms of other world music, and not one… not two… but three steel guitar legends – Barney Isaacs, Danny Stewart, and Billy Hew Len. Now, there is a precedent for steel guitar duos in Hawaiian music which came about by necessity (most notably the Hawaii Calls radio shows and subsequent recordings). But a steel guitar trio is rare. (It is impossible to know how many of these steelers were involved in the dramatic intro heard here.) "Nani Waimea" is from the 1959 classic Liberty Records LP Hula La, and I can safely write that nothing like it was done before or since. This beautiful recording also remains out of print.
Next, more from the on-going collaboration of Pua Almeida and Billy Hew Len from one of Pua's most rare recordings – the 1960 LP Pua Almeida Sings with Billy Hew Len and the Moana Surfriders (often referred to as the "Pink Album" for its stunning cover). Throughout this album, the inventive arrangements – no doubt the collaboration of Pua, Billy, and Benny Saks who went on to be known as the foremost arranger of Hawaiian music recordings in the 1960s – are indicative of the melding of traditional Hawaiian sounds and the jazz arrangements of such combos as led by Nat King Cole, Joe Bushkin, or George Shearing. Like Shearing's group, the combo is a quintet anchored by upright bass, rhythm guitar, percussion, piano and vibes (handled most ably by vibraphonist Saks). In that formation, the group might be considered staunchly jazz. But the addition of Hew Len's steel – such as on the romantic "Lovely Kaui" or the swinging "E Lili`u E" – brings it all back to Hawaiian style. You will also hear the introduction of a drummer/percussionist which would become more prevalent among the Waikiki show bands as the 60s wore on. The percussionist permitted Pua's group to dabble in combining Latin rhythms into the Hawaiian idiom.
The late 1950s gave rise to a popular albeit short-lived Honolulu record label called Waikiki Records. The label recorded the best of the best in Hawaiian music and was the recording home of Pua Almeida and his group for the bulk of their recorded output which spanned four LPs, countless 45 rpm singles, and a handful of selections spread across Waikiki's popular compilation LPs. It is simply a pity that none of this beautiful music has seen the light of day in the digital era (all of it out of print since the last vinyl pressings in the early 1970s before the label's demise). I could have presented a three-hour program of just Pua and Billy's Waikiki-era output. But here instead are just a few rarities from the period. One of the most rare among these is the novelty tune "Some Hawaiian Is Lying" as it only appeared on record once. The song appeared on the first pressings of Pua's LP Poolside Music Hawaiiana. But when the same LP was later rereleased under the title Dancing Under The Stars With Pua with the exact same track list, "Some Hawaiian Is Lying" was inexplicably removed from that and all subsequent reissues. Kalakaua Aylett makes another appearance with Pua's group singing "`Ahulili" (from the flip side of the same LP). Then Pua sings "Lovely Maile Lei" before Billy takes another rare vocal lead on the forgotten "Happy Birthday, Ku`uipo" (composed by R. Alex Anderson of "Mele Kalikimaka" fame).
You would be hard pressed – no pun intended – to find a copy of the next two 1961 recordings as they were not released on any of the major record labels in Hawai'i. As the label is not identified anywhere on the recording, we should consider it "private issue" and, therefore, of very limited distribution. The singer is `Ilima Baker (wife of Pua Almeida sidekick, guitarist and singer Kalakaua Aylett) who headlined in such venerable venues as the Moana Hotel and the Niumalu Hotel (on the site of what is now the Hilton Hawaiian Village) since before she graduated from high school. Even if you have never heard the name or even the voice, fans of Hawaiian music have felt her legacy as she brought the popular Hawaiian standard "In A Church In An Old Hawaiian Town" to prominence. To my knowledge, there is no other commercial recording of `Ilima Baker except for this one LP simply entitled "Ilima" which featured the arranging of Benny Saks and the steel guitar of Billy Hew Len. This most unusual album features hymns and Christian songs on one side and Hawaiian standards on the other. But the most unusual thing about the album is the first song you hear – `Ilima's voice accompanied only by Billy's steel guitar and Ambrose Hutchinson's kaekeeke, or bamboo organ which consists of bamboo pipes of varying lengths in order to tune them to various pitches which – when tapped on the ground – create a percussive tone much like a giant xylophone. I can find no recordings that feature the steel guitar and kaekeeke before or since this rarity. We hear from the same recording the lilting "Honolulu Eyes."
In 1962 singer/composer Lena Machado self-produced her one and only LP of her music, Hawaii's Songbird (which had long been her nickname). The Hawaiian music-loving world should feel fortunate indeed that Auntie Lena undertook and bankrolled this auspicious recording as they are among the few recordings we have of her singing her own compositions – songs which remain popular among singers of Hawaiian songs today! She enlisted Pua Almeida's friend and arranger, Benny Saks (about whom more in just a moment), for these sessions, and he brought along his friend Billy Hew Len. Lena sings two songs she wrote, "Mai Lohilohi Mai `Oe" and "Ho`onanea," the latter with its iconic intro – an augmented glissando from Billy's pedal steel. This entire LP is happily still available in the digital era and can be found on most major streaming services under the title above.
Benny Saks (professional name of Ben Sakamoto) was a pianist and vibraphonist, but his magic was in arranging for the great vocalists of Hawaiian music. He was the de facto "house arranger" for both the Makaha Records and Sounds of Hawaii Records labels through the 1960s – two companies aimed at endearing Hawaiian music to younger, hipper audiences. As such his memorable arranging work is heard behind such amazing voices as Myrtle K. Hilo, Marlene Sai, Kai Davis, Frank and Cathy Kawelo, Bill Kaiwa, Iwalani Kahalewai, Billy Gonsalves, and Leinaala Haili. And wherever Benny was, Billy was there too on these iconic recordings. Saks also introduced several new sounds to the Hawaiian music of the swinging 60s – the drum kit, the vibes, and the Hammond B-3 organ (which had recently taken hold in the jazz world). Because the recordings from these labels are still fortunately available for listening in the digital era, we present here only a handful of recordings from this era. But because you can't tell the player without a scorecard, Billy accompanies songstress Marlene Sai on "Pikake," Bill Kaiwa on "No Kipukai," Frank and Cathy Kawelo on "Green Lantern Hula," Myrtle K. Hilo on the Yiddish-turned-Pidgin favorite "The Automobile Song (Will You Love Me When My Carburetor Is Busted)", falsetto Kai Davis on "Pauoa Liko Ka Lehua," Leinaala Haili on "Holo Wa`apa" composed by Lena Machado (whom you heard earlier), and finally Billy Gonsalves and His Paradise Serenaders on "Ke Ano Ahiahi."
In the 1970s Billy Hew Len shared a long performing association with singer Myra English with whom he performed several times a week at the Blue Dolphin Lounge of the Outrigger Hotel in Waikiki. The trio was rounded out by slack key guitar legend Sonny Chillingworth. The trio of Myra's 'ukulele, Billy's steel guitar, and Sonny's guitar was unusual in that it was missing an essential component – the bass, the all-important bottom end of most Hawaiian groups (or, for that matter, groups in any genre). It is not until you hear Sonny's unique guitar style that you begin to understand how this could work. But while Sonny played most of these engagements in standard tuning – not in slack key tuning (more about this another time) – he still played in the slack key style ­– which means alternating melody lines and occasional chords with running bass lines, the signature sound of slack key guitar. Sonny's guitar was all the bottom end this trio needed. However, for the purpose of these studio sessions, a bass player was added to the proceedings. Here Myra sings "Huli Ho`i" and "Pu`uanahulu." These recordings can still be found on most streaming services under the title The Best of the Champagne Lady.
Also from the 1970s, more rarities from a recording session led by singer Elaine Ako Spencer. These recordings were briefly available on CD, but that CD is long out of print, and the selections have never been made available via streaming services. Hear Billy accompany Auntie Elaine on "Honaunau Paka" and "Olu O Pu`ulani."
Although Billy Hew Len would pass away much too young at the age of 66 in November 1987, he was still quite active on stage and in the studio through the 1980s. Around 1982, Billy went into the studio with another all-star group, this time led by falsetto phenom Kekua Fernandes. The result was the long out-of-print cassette-only release Ka Momi O Ka Pakipika. Auntie Leilani Sharpe Mendez sings lead on "Ke Leo Manu `o Hawai`i" and "Koa`e."
Violet Pahu Liliko`i is best known as the bass player for the iconic Genoa Keawe for several decades from the 1950s through the 1990s. (Think such quintessential Hawaiian records as Party Hulas and Luau Hulas.) In 1985, however, Auntie Violet decided to showcase her talented musical `ohana (family) on an LP titled The Liliko`i Family Sings Hawaiian and Contemporary Favorites. Billy accompanied the family on a few selections including the peppy "Polynesian Rhythm" and "Ho`okena."
Finally, from Billy's final recording session in 1987, he joins singer and hula master Kealoha Kalama and her family in the making of their then latest LP, Lei Puakenikeni. The rhythm guitarist and arranger is the still beloved Hiram Olsen. Billy's steel can be heard for the last time accompanying Auntie Kealoha's sister, Puanani Kalama Akiona, on the lovely "Beautiful Mahealani Moon," while Kealoha takes the vocal lead herself on "Hilo E" – closing out this set in grand style.
And there you have a fairly thorough overview of Billy Hew Len's nearly four-decade recording career. As ever, we hope you enjoyed reading and listening! Be sure to check back at Ho`olohe Hou Radio for more about Billy Hew Len and your favorite Hawaiian music artists of the last century.