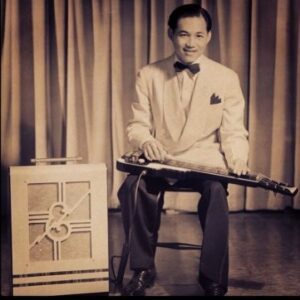 Hal Aloma was born Harold David Alama on January 8, 1908. He attended Kalihi-Waena School and McKinley High School in Honolulu before dashing off to the mainland and New York City where he became extremely popular for his modernized hybrid of Hawaiian music.
A composer, singer, and eventually band leader, Hal Aloma was first and foremost a steel guitar player with a style like no other. Upon his arrival in New York City, he started out as the steel guitarist with Lani McIntire at New York's famed Lexington Hotel "Hawaiian Room," and then later led his own band in this same location as well as the Luau 400 and various night spots up and down the east coast. He appeared on television shows hosted by Arthur Godfrey, Ed Sullivan, and Perry Como, and was even a mystery guest on the game show To Tell The Truth. Aloma also appeared in the MGM film Ship Ahoy with Tommy Dorsey. He capped off his amazing career as the first band leader at the Polynesian Village for the grand opening of Walt Disney World in Orlando, Florida.
Although born Alama, Hal changed his name to Aloma – presumably to capitalize on the popularity of a Polynesian-themed film of that era, Aloma of the South Seas. He was the brother of another Hawaiian entertainer, Sam Alama, a singer and composer who left a lasting legacy with a song still sung today, "Kanakanui Hotel." Hal began his musical career in partnership with his brother Sam at the Alexander Young Hotel and Moana Hotel in Honolulu.
As a songwriter, Aloma composed more than five dozen songs. While not as prolific as, say, Harry Owens or R. Alex Anderson, Hal's paeans to his homeland are often just as beautiful – a few even catching on with local Hawai'i artists. I have heard his "Echoes of the South Pacific" covered by such Hawaiian music traditionalists as Violet Pahu Liliko'i, and his "Wikiwiki Mai" has been recorded over and over including a memorable rendition by Charles K.L. Davis.
Aloma was an extremely popular recording artist – recording for Decca and Columbia Records through the 1940s and landing a coveted record contract with Dot Records from the late 1950s through mid-1960s which yielded (according to my discography) at least eight LP records. One of the most interesting artifacts in Aloma's discography – and in the discography of Hawaiian music at large – is two sets of 78 rpm records from the 1940s called King's Serenade in which Aloma and his group perform only compositions by venerable Hawaiian composer Charles E. King complete with English-language translation and narration by none other than King himself.
His recordings sold extremely well on the mainland and are now ubiquitous at flea markets and garage sales, but you will rarely find one in the used record shops throughout Hawai'i. This may be because the local Hawai`i music trade was focused on its local artists and their more "traditional" sound, whereas Hal Aloma's brand of modernized, mainland-influenced Hawaiian music may not have been the appetite of local Hawai'i listeners.
Recordings from Aloma's Dot Records period often featured two steel guitars – a sound typically closely identified with the Hawaii Calls radio broadcasts. The second steeler is Hal's great friend, New York City local Sam Makia who also left an enduring legacy of recordings after his initial stint as bass player in the "Hawaiian Room" of the Lexington Hotel with the band led by Lani McIntire and later as one of the last bandleaders in this same room. Because of their various recording contracts with major mainland labels, Aloma and Makia did several recordings – together and separately – as "ghost" artists for other budget record labels under such ridiculous pseudonyms as Johnny Poi. You likely have an Aloma or Makia record in your collection and didn't even know it (unless – like so many steel guitarists – you identified one or both of them by their unique playing styles).
Aloma's style was characterized by a wide, fast vibrato, a tone that leans heavily toward the treble side of the dial, and a really wet reverb. Beyond this, it can be difficult to describe a steel guitarist's style in words. The best way to understand a steel guitarist is to listen. So, Ho`olohe Hou Radio presents an hour of rare Hal Aloma for your listening and education – all of the material rare and out-of-print and available nowhere else in the digital era but right here. Click below to listen and continue reading below to learn more about the history of these recordings.
The first selections in this set date to the early 1940s and, arguably, Aloma's first recording session. The exact date is difficult to ascertain since discographies date the session to 1942, but this seems unlikely because of the AFM (American Federation of Musicians) recording ban at that time. The recordings were released, however, after September 1943 since that is the date after which such independent labels as Varsity, Royale, and Sonora settled their dispute with the AFM. A young Aloma is heard here with bandleader Lani McIntire with whom Aloma was working at the Hawaiian Room of the Lexington Hotel in New York City at the time. Notice the big band sound that is not entirely characteristic of Hawaiian music but which was the kind of music McIntire and similar bands had to play to survive in New York City dance halls. McIntire takes the vocal lead on "Song Of The Islands" ("Na Lei `O Hawai`i"), "Ua Like No A Like" ("Sweet Constancy"), and "My Isle of Golden Dreams." But listen carefully for Aloma's lilting falsetto in the vocal chorus (especially on "Song Of The Islands").
From recording sessions for Decca Records which we can confirm took place between February 7 and March 6, 1944 in New York City, we hear the aforementioned sides Aloma led for composer Charles E. King. The 16 sides Aloma and King waxed during these three sessions resulted in two four-disc folios (from which the term "album" originated) titled King's Serenade Volumes 1 and 2. Aloma plays steel and takes the vocal lead on King's compositions "Eleu Mikimiki," "Mai Nuha Mai `Oe," and "`Uheuhene." You will also hear King's unique narration for these tunes – an interesting concept at any point in the history of Hawaiian music.
Stepping forward a few years to sessions for MGM dating to October 15 and 16, 1952, we hear Aloma leading his own group once again – continuing in the spirit of the large dance bands whose popularity had not yet waned. Aloma and orchestra perform two of Aloma's own compositions, "Ku`u Lei Makamae" and "Echoes of the South Pacific," as well as the lovely "Ku`u Ipo I Ka He`e Pue One" composed by a most talented member of the last reigning royal family of Hawai`i, Princess Miriam Likelike.
Nearly a year later, in a two-day session for Columbia Records on August 31 and September 1, 1953, Aloma adopted the smaller group sound more typically associated with Hawaiian music for a recording session which yielded seven sides including "Wai O Minnehaha," "E Lili`u E," and "My Little Grass Shack (In Kealakekua, Hawaii)." One has to wonder what brought this New York City-based group to Chicago, but the trip may have necessitated paring down the group to its bare essence sans the saxophones and trombones.
Finally, Aloma's recording career wrapped up with Dot Records for whom he recorded more than a half-dozen LPs between 1957 and 1966. We hear Aloma romp through two originals – "Wikiwiki Mai" and "When It's Luau Time In Hawaii" – as well as Sonny Cunha's "Hapa-Haole Hula Girl" and two from the pen of Jack Pitman, "Beyond The Reef" and "Lovely Hula Girl." As stated previously, whenever you hear two steel guitars on these Dot Records sides, the second steel guitar was wielded by Hal's close friend Sam Makia. Their dual steel work on "Wikiwiki Mai" is particularly stunning. The final selections come from what may be my favorite Aloma effort – the 1960 LP Hal Aloma Takes Your Favorite Tunes On A Trip To Hawaii, on which Aloma takes popular tunes of the previous 25 years and arranges them for steel guitar. Listen to Hal put his unique spin on "I Love You," "Don't Blame Me," and "My Blue Heaven."
Again, not a single one of these fantastic sides by Hal Aloma has ever been made commercially available in the digital era. This may be the only place on the internet where you can find such gems. Which is why Ho`olohe Hou Radio exists! As ever, we hope you enjoyed reading and listening. Be sure to check back at Ho`olohe Hou Radio for more about Hal Aloma, the steel guitar, and your favorite Hawaiian music artists of the last century.