Fred Tavares – Hawai`i's Les Paul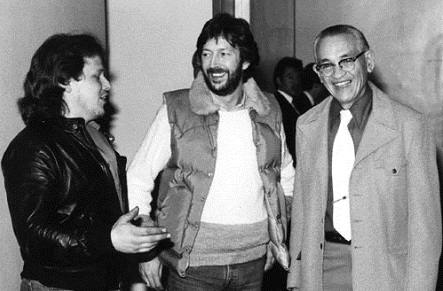 Where there was a will, there was Freddie Tavares. Like his contemporary Les Paul, who better to solve the problems faced by musicians than a musician?
The Maui-born Tavares was a musician and a tinkerer. Although he could play any stringed instrument handed to him, he excelled at the steel guitar – beginning his career in small groups with brother, Ernie, followed by a stint with bandleader Harry Owens (making him the first steel guitarist heard on the Hawaii Calls radio broadcasts when they debuted in July 1935). But when Freddie's wanderlust led him to California – where he lived out the next 40 years of his life in the humble home he made with his wife in Anaheim – he began playing his brand of Hawaiian steel guitar with such Western swing artists as Foy Willing and Wade Ray and the Ozark Mountain Boys. Tavares went back and forth seamlessly from country to Hawaiian music as well as studio work for Hollywood productions. His least famous effort: The `ukulele heard on the soundtrack for Elvis Presley's Blue Hawaii. His most famous effort: The sweeping glissando heard at the beginning of every Looney Tunes cartoon. (Although the Hawaii Calls radio broadcasts were heard by millions around the world, because that program has been off the air since 1974 but the Looney Tunes films continue to be distributed, that theme song likely makes Freddie Tavares the most heard steel guitarist in the history of the instrument.)
After relocating to the West Coast, Tavares' reputation as a tinkerer was much talked about – bringing him to the attention of Leo Fender, founder of the Fender Instrument Company. Performing became an avocation for Freddie while designing and engineering for Fender became his "day job." During his lengthy tenure with Fender, Tavares is known to be wholly or partially responsible for many of its most important innovations which continue to be popular among musicians to this day more than 60 years later. Tavares designed the sleek and sexy early rock-and-roll guitar which came to be known as the Fender Stratocaster (still favored by players as influential as Eric Clapton, Robert Cray, and Jeff Beck to this day). He designed the Fender Twin Reverb amplifier (specially designed with the steel guitarist in mind, but a favorite among bluesmen, as well). And he refined and perfected the pedal steel guitar (a staple of country music but which – despite competing claims – was likely first conceived of and prototyped by his brother, Ernie Tavares). Freddie played a pedal steel guitar for most of his later career.
Ho`olohe Hou Radio honors Freddie Tavares by spinning some of his most rare recordings. Nowhere else are you likely to hear his 1960s recordings backing Hawaiian Eye co-star Poncie Ponce or the many recordings on which Tavares was not credited – such as with Harry Owens, Sam Koki, William Kealoha, The Polynesians, and The Outriggers. You will occasionally hear his work in the country vein with Wade Ray and Foy Willing. The station archives are also home to Tavares' extremely rare recordings with brother Ernie and their frequent West Coast collaborator Vince Akina under the name the South Sea Islanders (largely the same group heard on the Hukilau Hulas recordings of the 1960s). And in our "Rarities" segment, you will even hear Freddie Tavares' final public performance – at the 1985 Steel Guitar Ho`olaule`a in Waikiki hosted by the Hawaiian Steel Guitar Association.
Fans of the steel guitar should stay glued to Ho`olohe Hou Radio because you never know when you will hear Freddie Tavares in action.