"Nalani" Reaches The Mainland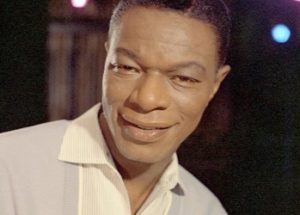 In 1948 Alvin Isaacs won First Prize in the Aloha Festivals Song Contest with his composition "A World of Happy Days." This is but one of the many reasons why "Papa" Alvin was often referred to as "The Ambassador of Good Cheer."
That same year tobacco heiress and philanthropist Doris Duke absolutely fell in love with Alvin Isaacs' composition "Nalani." She threw a party At Shangri La, her mansion on five acres overlooking the Pacific Ocean and Diamond Head, and among the dignitaries on that guest list was a vacationing Nat "King" Cole. Doris took him aside and said, "Nat, you just have to hear this song!" And she handed him the sheet music. Nat looked at it and fell in love with it just as hard as Doris did – so much so that he immediately proceeded to sit down at the piano and take the new tune for a spin for the guests of the party. The rest – as they say – is history. Although as I usually hear that history, it says that "Nalani" was the very next song Nat recorded when he returned to the mainland and the Capitol Records studio at in Hollywood. This is not entirely true. It was not until more than a year later – on September 9, 1949 – that Nat took the new English-language lyric (and new title) by Girdie Bielenson into the famed Capitol Records studios at 5515 Melrose Avenue in Hollywood. (The famed Capitol Record tower – the one that looks like a stack of 45 rpm records on a spindle – was not built until 1956.) Nat waxed "Nalani (Here Is My Heart)" with his regular trio including guitarist Irving Ashby, bassist Joe Comfort, and Nat on piano (with an unidentified vocal group). The English-language lyric (which is not a translation of the original Hawaiian) was no doubt aimed at helping the record appeal to mainland record buyers, but it was a doubly good idea given Nat's struggle (as you can hear) with the little bit of Hawaiian he had to sing. The record was buzz-worthy enough for a syndicated columnist (in a piece appearing in both the October 31, 1949 Toledo Blade and the November 3, 1949 Times Herald of Olean, NY) to mention the tune in an announcement of a concert featuring bandleader Woody Herman with special guest Nat "King" Cole:
This well known music world figure and clarinetist will bring his orchestra to the Sports Arena on Friday evening, Nov. 11, for a popular concert program. Starring with him will be Nat "King" Cole and his celebrated trio. Doris Duke will be one of the regular ringsiders at Bop City during Nat "King" Cole's next engagement there. And one of his numbers will be a song she discovered for him in Hawaii – a ditty called "Nalani" which was written by one of her friends.
Another version of this story has the record being pulled from circulation for reasons unknown. But as nobody can cite the reasons why it would be pulled, and as this story is not documented in writing seemingly anywhere, the veracity of the tale remains in doubt.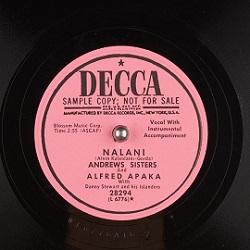 Because turnabout is fair play, if Alfred Apaka recorded an early (if not the earliest) version of the original Hawaiian-language lyric for "Nalani" in 1947, as his popularity grew, Apaka (or the record label to which he was then signed, Decca) capitalized on the popularity of the Nat "King" Cole version by recording the English-language version more suitable for consumption by mainland audiences himself. And, in an attempt at trumping the Cole version, Decca Records paired their biggest star in Hawai`i with their biggest stars practically everywhere else: the Andrews Sisters. On May 20, 1952 at the Decca Records studio in Los Angeles with a group led by Hollywood-based steel guitarist Danny Stewart (who arranged and led most of the early Apaka sessions for the label), Patty, Maxine, LaVerne, and Alfred laid down the Girdie Bielenson English-language lyric for "Nalani (Here's To My Heart)". The review in the September 27, 1952 issue of Billboard exclaimed:
The gals are on a Hawaiian kick in this platter. They have the strong assistance of Alfred Apaka as the male chanter, and together they turn in a fresh reading of the Island opus. Good program wax.
Make no mistake: On every version of the 78 and 45 rpms that I have ever encountered of this side, the Andrews Sisters get top billing on the label – helping to ensure the record's success. This would lead one to believe that recording "Nalani" a second time was Decca's – not Apaka's – idea. The two sessions between May 20 and 22, 1952 produced eight sides which were released as an album of four 78 rpm discs entitled My Isle of Golden Dreams. All of these sides remain officially out of print today. Not that any singles you might find from these sessions released as MP3s are bootlegs copied from the records in somebody's collection (not unlike this blog.)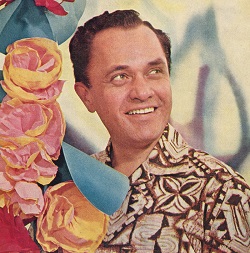 Elsewhere at Ho`olohe Hou we have been discussing the mainland adventures – and successes – of Hawai`i's operatic tenor Charles K.L. Davis. Under contract to Long Island, New York's Everest Records in the late 1950s, Davis also turned in a version of the English-language lyric to "Nalani (Here Is My Heart)" for his LP Songs of Hawaii. The steel guitarist – as identified by his tone, seemingly uncontrollable vibrato, and rocket-like glissandos – is none other than Hal Aloma who was firmly rooted in NYC after his stint at the Lexington Hotel's Hawaiian Room. An audiophile label using the then most advanced recording technologies available, Everest Records release was a feast for the ears. These masters would lend themselves to stunning releases in the digital era, but sadly only one Charles K.L. Davis title on Everest has received this treatment. As with the sides by Alfred Apaka with the Andrews Sisters, caveat emptor. Any MP3 reissues you might find of the Charles K.L. Davis catalog on Everest Records are "needle drops" – offered for sale by nefarious entities – and in many cases sound worse than a copy of the original record located at a flea market.
Three versions of an Alvin Isaacs classic – all recorded on the mainland. Highly unusual for any song that isn't "Hawaiian War Chant," "Hawaiian Wedding Song," or anything that appeared in a Bing Crosby or Elvis Presley movie. We have spent considerable time talking about Alvin Isaacs' lyrics. But "Nalani" proves "Papa" could write a really memorable and addictive melody too – one with a much broader appeal than local Hawai`i audiences alone.
Click below to hear the three versions of "Nalani" discussed in this article.