Ho'omaka Hou – The All NEW Ho`olohe Hou Radio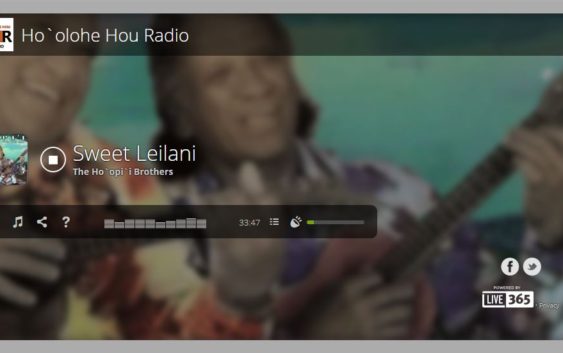 Behind the scenes of the reboot of your favorite station… …

First, it was a podcast. But we soon realized that you can't use copyrighted music in podcasts. (12 years later you still can't.)
Then it was a radio show. But one Sunday evening the show didn't go to air. Commence frantic telephone calls to the station. No answer. It would be two days before we heard that the station's owner had passed away – from throat cancer he told nobody he had.
Then it was a blog which published more than 750 pages on the history of Hawaiian music and achieved more than 8,000 readers/month. That was when I knew.
Then it was a full-fledged, 24-hour-a-day radio station. For a few months, anyway. That was when we heard that the hosting platform went bankrupt – the result of new royalty rates put in place by the Library of Congress. It took six months to build that station. And, like that, it was gone.
But we had been funded to run that radio station for a year through a Kickstarter campaign. So we found another platform – in Germany, one whose fees did not include royalties. We were back up and running within a month – keeping our promise. But the royalty fees needed to be negotiated directly with each of the four PROs (Performing Rights Organizations), and those fees exhausted the Kickstarter funds in fewer than two years.
And that was when the second radio hosting platform closed up shop. We spent nearly two years perfecting that station. And, again, just like… Poof. It was gone. Again.
You would think that we would be weary of starting over by now. And maybe we were (a little). But there is a Hawaiian word: kuleana. Sharing Hawaiian music with the world was our kuleana.
So we began building the station for the third time. We launched it September 19, 2018. But it didn't contain all of the tracks in our library, it didn't contain all of the special features that once made it unique, and we waged a constant battle – one that rages on – with our new hosting platform because they don't know the difference between a "bug" and a "feature." (For example, a year later and I am still unable to play a "double-shot" by an artist without hours of manipulation of individual tracks.)
A year later – four years since we first went to air, 12 years since the first podcast – it is here. The fully working, just-as-we-promised Ho`olohe Hou Radio, a first ever experiment in Hawaiian music edutainment. The goal was never to merely share the forgotten voices of Hawaii or to make a home for the tremendous artists of today who have not found a place on local Hawai`i. The goal was to educate the world about Hawaiian music – why it is important, why it is special, and why it is the glue that holds a culture together. The goal was also to dispel long-held myths and misconceptions about Hawaiian music. And who better to do that than a musician who has spent the last 45 years studying and performing Hawaiian music?
And when I say "we" and "our," it sounds more like a corporation. Or, at least, it sounds very professional. But the reality is that there is no "we." Just me. Ho`olohe Hou Radio is a one-man operation – and an extremely ambitious one.
Kuleana means many things. Privilege. Responsibility. Reason. Hawaiian music has not been the background to my life. It has been life itself – so often put before everything else, and the sacrifices have been many. Hawaiian music has been my reason for existing – for carrying on and through on the most difficult days – for as long as I can remember.  So it is more than my privilege to do the work – over and over again – to bring the lost and forgotten voices of Hawai`i back to life. It is my responsibility.
Bill Wynne
Creator/Host – Ho`olohe Hou Radio
_________________________________________
Whether you listen for an hour a week or all day long everyday, if the preservation of these forgotten and out-of-print recordings and making them available to the world seems as important a mission to you as it does to us, would you please consider a show of support? Click on SUPPORT on our homepage to find out how you can do your part to keep this music and this culture alive for years to come. Mahalo.