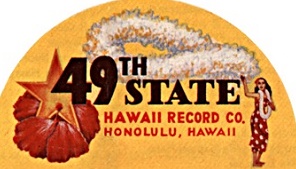 Ho`olohe Hou Radio was founded primarily not for entertainment's sake but, rather, as a serious preservation effort. Over more than 40 years creator/host Bill Wynne has amassed a jaw-dropping Hawaiian music collection spanning 1904 to present day and comprising more than 25,000 recordings – many one-of-a-kind as they were shared with him from the private collections of Hawai`i's legendary musicians themselves because they appreciate Wynne's love of all things Hawaiian and his sincere desire to preserve diamonds-in-the-rough others may have simply overlooked. Wynne is considered a "keeper of the culture" and his collection – as Hawaiian Music Hall of Fame president Ku`uipo Kumukahi referred to it – a "cultural treasure."
Although some – but certainly not all – of the rarities in the Ho`olohe Hou Radio archives exist elsewhere – such as the Bishop Museum or the University of Hawai`i Music Department Library – these recordings have not been made available to the public anywhere else because of the significant expense of paying mechanical and performance royalties for their use. Здесь можно в игровые автоматы играть онлайн не регистрируясь в различных казино. Огромный выбор игровых слотов заставит любого посетителя окунуться в мир азарта и больших выигрышей! Wynne chose radio as the medium for sharing his collection because it is currently the only way to do so legally and ethically. Ho`olohe Hou Radio has signed licensing agreements with ASCAP, BMI, and SESAC for the collection of mechanical royalties (royalties paid to the composer of a song) as well as with SoundExchange for performance royalties (royalties paid to the artist for the actual sound recording). These agreements permit Ho`olohe Hou Radio the use of these sound and video recordings both as a streaming radio service and elsewhere on the Ho`olohe Hou Radio website.
More than this, Wynne's personal belief – in contrast with many stations in any genre which offer vintage, out-of-print musical fare – is that the scratches, crackles, pops, and hiss which characterize the ravages of the passing of time are not "quaint." So he has embarked on a remastering effort to make the recordings heard on Ho`olohe Hou Radio as listenable – by millennial standards – as possible. The Ho`olohe Hou Radio on air library currently stands at over 7,200 recordings and counting – more than a third of these rare and out-of-print. These recordings can be heard every day, all day long at Ho`olohe Hou Radio.
But the rarest-of-the-rare Wynne reserves for the on air segment aptly titled "Rarities." From time to time Wynne will trot out recordings guaranteed to be one-of-a-kind and that you are not likely to here anywhere else but Ho`olohe Hou Radio. Stay tuned to Ho`olohe Hou Radio to catch these rarities which air throughout each month, and subscribe to our Facebook or Twitter feeds for information about when such recordings will be featured.