Still More from the Lena Machado Songbook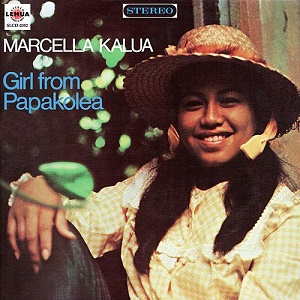 Following up on those popular Lena Machado compositions which she never recorded herself, here are still a few more as recorded by some once popular singers whose voices may have been forgotten by all but the most ardent fans of Hawaiian music.
Click here to listen to this set of Lena Machado compositions as you continue to read.
Although widely recorded as back-up singer (often unidentified and uncredited) but stepping up to the microphone as the leader in a recording studio only once, Wainani Kaneali`i was once one of the most recognizable voices in Hawaiian entertainment. On her only solo release, the mid-1960s Songs of the Pacific on Sounds of Hawaii Records, Wainani lives up to the album's title by offering up selections in Hawaiian, Fijian, Samoan, and Tahitian. She is joined here by the voices of Lydia Wong and Iwalani Kahalewai (for whom Wainani returned the favor by providing backing vocals for Iwalani's An Hawaiian Happening during this same period for the same label). The slack key guitar is provided by none other than Atta Isaacs. The performance is perfection Hawaiian style, but alas the one pitfall is that the album's producers credit the writing of a Lena Machado song to nobody in particular but rather to "Public Domain." Indeed, Machado wrote "Nuku O Nu`uanu" for – as related by her hānai daughter, Pi`olani Motta – her many delightful and thought-provoking trips to the windy Pali Lookout (now that it is accessible by highway, a popular tourist attraction for its views of the windward side of O`ahu and the towns of Kailua and Kane`ohe). Interestingly, only as an afterthought does Motta reference the (what to me, at least, are very clear) intimate underpinnings of the song as only Machado can write them. While Motta claims this is a song about a place first and about people second, the opposite would appear to be truer. Before it was guarded heavily by park rangers, the Pali Lookout was a popular spot for a late-night romantic rendezvous. This would more readily explain such poetic references as "ka makani hu`e kapa" ("the garment-lifting wind") which reveals "ka waiho a Mōkapu" ("Mōkapu spread out below"). We look no further than the title for kaona (or Hawaiian-style use of metaphor): "Nuku" can mean "beak," "snout," or "tip."
Like many, for the longest time I assumed that "Pōhai Ke Aloha" (which means "surrounded by love") was a love song written by a man for a woman. Not so. It would be more appropriately described as Lena's love song for a family. You have read here previously that early in her career Lena was a featured singer with the Royal Hawaiian Band, and although she would eventually leave over a dispute with bandmaster Frank Vierra, the beginning of her association with the band years earlier under then bandmaster Mekia Kealaka`i was a wonderful time for her. Despite her very tumultuous and pubic separation from the band, Lena continued to look upon Kealaka`i fondly as mentor and friend, and he saw her as a daughter. Lena composed "Pōhai Ke Aloha" in honor of Kealaka`i, his wife, and his son and their home in the `Ewa Beach area of O`ahu. When the home was built, three hau trees were planted in the front yard. The trees grew to different heights – which, in Lena's poetic mind, symbolized the three members of the Kealaka`i `ohana(or family). She references the trees in the second verse as "Kamanui, Kamalani, Kamaiki" – one for the father, one for the mother, and one for the son. It is this sentimentality that has confused many listeners – and performers – into believing that "Pōhai Ke Aloha" was written by Kealaka`i as a eulogy for his wife. But, as hānai daughter Motta so eloquently puts it, the song is "one of the best examples of Aunty Lena's ability to personalize the emotions she describes." The version of the song you hear now is probably the earliest version I heard as it was one of the first realHawaiian music LPs that could be found in my home. And from the time I first heard the Hula Records release Beautiful Kauai by Kawai Cockett, Uncle Kawai became a huge inspiration to me. I am proud and honored to have befriended the Cockett family – his wife, Kamala, and son, Ha`aheo – and I dedicate to them with my aloha the song I learned from their beloved husband and father – a song that reminds me of the triumvirate power and beauty of inseparable father, mother, and son that I can know vicariously through them.
The "kiele" is the gardenia flower. And it is presumed that Auntie Lena wrote "Lei Kiele" – like "Ei Nei" an "Aloha Nō" – for her beloved husband, Luciano, for it conveys many of the same sentiments as these other two mele (or songs) about whom the inspiration is more clear. It is one of Lena's more unusual compositions in that it was one of the few she wrote in 3/4 (or waltz) time. Another of Lena's least performed and recorded songs, few know that she even wrote it because the few times it has appeared on record, the artists have not credited Machado as the composer. This is especially surprising in the case of the artist you hear here for Marcella Kalua took singing lessons from Lena in the 1960s – just before this album, Girl From Papakolea, was released on the Makaha Records label. (It is not too surprising, however, since it has been common practice for record companies to credit the fewest composers possible – affixing the dreaded "Traditional" and "Public Domain" labels to as many songs as possible in order to pay the least royalties and maximize profits. On the LP in question, there are 10 songs, and the producers credit only three with composers – the other seven labeled "Traditional." Yet I can name the composers of six of the other seven composers without any further research.) The then very young Marcella recorded Girl From Papakolea with the venerable Sons of Hawai`i which in this incarnation was Norman Isaacs (Alvin's son) on bass, Atta Isaacs (another of Alvin's sons) on slack key guitar, Bobby Larrison on guitars, `ukulele and vocals, David "Feets" Rogers on steel guitar (the signature sound of the Sons), and their leader, Eddie Kamae, on `ukulele and vocals. (This is the same incarnation of the group that had just earlier recorded This Is Eddie Kamae, whichHo`olohe Hou will examine in its series on 12 Hawaiian Music LPs That Forever Changed My Life.)
And, a bonus… Despite that this segment is focused on Lena's compositions that she never got around to recording herself, she did, of course, record "E Ku`u Baby Hot Cha Cha" twice over her career. But the version here – by Buddy Fo and The Invitations – is worthy of hearing since – for my money, at least – it comes closer than any other version to the arrangement Lena might have heard in her head. Buddy and crew bring all of Lena's favorite Latin influences together in this one brief moment on record – the heavily percussive arrangement in mambo rhythm reminiscent of the dance bands led by Prez Prado, Xavier Cugat, and Tito Puente. While Fo is best remembers as leader of the five-part vocal group, The Invitations, this recording reminds us that Fo was firstan in demand percussionist.
Next time: We close our tribute to Lena Machado with a look at her lasting legacy – her compositions performed by today's shining stars in Hawaiian music…
[Editor's Note: Biographical information provided by the quintessential volume on Lena Machado's life and work, Songbird of Hawai`i: My Memories of Aunty Lena by Pi`olani Motta with Kihei De Silva. For more information about this historically and culturally significant artist, I encourage you to read this book cover to cover. Highly recommended.]