In Hawai`i, The Story Starts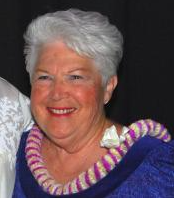 Ho`olohe Hou continues to honor the musicians of the Hawaiian Room – the New York City venue which for nearly 30 years delivered authentic Hawaiian song and dance to exceedingly appreciative mainland audiences.
And after all the mysteries we have endured – and perhaps solved – about the gentlemen of the Lexington Hotel's Hawaiian Room, perhaps the greatest mystery of them all is the one most likely to be solved: The mystery of the lone "girl singer," Mona Joy.
I often recount the story of growing up in New Jersey among the countless Hawai`i expats who came to the East Coast seeking new opportunities after World War II. It was through these loving calabash aunties and uncles that I came to fall in love with all things Hawaiian – but especially the music. One couple, in particular, fostered this love more than any other – Peter and Ruth Kuzer. While the name may not sound Hawaiian, Pete – a lifetime United Airlines employee – was the son of a Polish father, Bill, and a Chinese-Hawaiian mother, Elizabeth (or, affectionately, Auntie Lei). Many a New Year's Eve, 4th of July, and random Saturday night or Sunday afternoon was spent with the Kuzers who lived just minutes away. The Kuzers had – what felt to me at the time (silly me!) – a vast Hawaiian music collection. One of the first LPs that I uncovered in their racks smelled of mildew and was scratched almost beyond listenability. But the cover beckoned me – the front cover a festive lu`au, the back cover filled with recipes for Hawaiian delicacies like lomilomi salmon. Pulling out the album revealed an even more inviting inner sleeve – a block print of white Tahitian tiare flowers on a background of solid blue, what I would come to learn many years later was a classic Alfred Shaheen print. I spun the record and was indoctrinated into the sounds of classic Hawaiian music as I had never known it before. The compilation album offered delights from such artists as Pauline Kekahuna, Bil Ali`iloa Lincoln, Andy Cummings, the Kilima Brothers, and a voice unlike any I had heard before or since – a lady named Mona Joy. The Kuzers gifted me their copy of that album (I left them no choice, really), and I have been through at least four more copies over the years – picking up every copy I have seen over the years on eBay at any ridiculous price.
Flash forward more than 35 years… On July 10, 2014, I was honored to perform at The Willows in Mo`ili`ili for the "Pakele Live" concert series – a tremendous honor for an artist from New Jersey who purports to perform Hawaiian music. I was surprised to see an auntie from back home on the East Coast in the audience. Auntie `Io approached me with her arm around a friend, and she exclaims, "There is somebody here you have to meet. Bill, meet Auntie Mona Joy." And something happened to me that rarely (bordering on never) happens: I had no idea what to say. So I just hugged her and told her the story I just related to you – and wondered if she believed that ahaole kid from New Jersey could be so moved by Hawaiian music or – more specifically – by her voice.
This evening, October 10, 2014, I have the opportunity to remedy past ineloquences when Auntie Mona and I meet again in New York City for the debut of the documentary film The Hawaiian Room about the lives of the musicians and dancers who made the Lexington Hotel in New York City the eastern outpost of Waikiki for 30 years. My musical partner, singer and multi-instrumentalist Andy Wang, will open for the film with a few songs accompanied by Auntie Mona as well as accompany the Hawaiian Room dancers on a reunion hula. And I will know what to say this time around.
Born and raised in Waikiki, Mona launched her professional singing career at the Niumalu Hotel at the gateway to Waikiki. (The Niumalu would become the Hawaiian Village and – today – the vast Hilton Hawaiian Village Hotel complex.) Mona went on to perform at such other venerable venues as the Royal Hawaiian Hotel, Sheraton Princess Kaiulani, and Moana Hotel. She also performed with Lei Collins at the at the House Without A Key at the Halekulani Hotel (which – besides our love of the Hawaiian songbook – is something else Auntie Mona and I have in common). Mona has performed with such beloved figures in the annals of Hawaiian music as Gabby Pahinui, the Isaacs family, Mahi Beamer, and Bill Lincoln.
After leaving Hawai`i for the mainland, Mona worked at Harry's Waikiki in Chicago before making her way to New York City and the Lexington Hotel's famed Hawaiian Room. She spent 18 years performing up and down the East Coast before returning to her Hawai`i home where she resides in Kapolei on the leeward side of O`ahu. And, yes, she is still singing – at tributes to her legendary friends in Hawaiian music, weddings at Kawaiaha`o Church, and anywhere she is asked. So let's hear her sing a few for us right now…
Click here to listen to this set from Mona Joy as you continue reading.
"The Story Starts" is from the Waikiki Records compilation LP In Hawaii The Story Starts with a quartet led by steel guitarist Barney Isaacs (billed here as Alvin Kaleolani). The beautiful story of young love was written by Barney's father, Alvin Kaleolani Isaacs, Sr. (honored here at Ho`olohe Hou recently), and not only does Mona receive the honor of being the first to record the beautiful lyric and haunting melody to go with, it turns out she is the only singer to have ever recorded it.
"Beautiful Kahana" is the first of a series of duets by Auntie Mona with baritone Val Hao with a somewhat anonymous quartet which goes only by the name "the Waikiki Serenaders." (Perhaps this evening I will learn more about these mystery musicians.) The song – composed by Mary J. Montano – speaks of the windward O`ahu home of Mary E. Foster who is credited with bringing the Baha`i faith from India to Hawai`i. The song appears on a Waikiki Records 45 rpm single as well as on the Waikiki compilation LP Waikiki Sings.
"Lei Aloha, Lei Makamae" – another duet from Aunty Mona and Uncle Val – is sometimes referred to as the real "Hawaiian Wedding Song." Like the "fake Hawaiian Wedding Song" – "Ke Kali Nei Au" – the song is from the pen of the venerable and prolific Charles E. King. The duet features the same mystery musicians and appears both on the Waikiki Sings LP and on the flip side of the 45 rpm single containing "Beautiful Kahana."
"O Makalapua" was the first sound I ever heard from Mona Joy's ethereal pipes. From my childhood favorite Luau At Queen's Surf on Waikiki Records, Mona again duets with Val on this song which speaks of their beloved Queen Lili`uokalani by her many names (such as "Kamaka`eha" and "Makalapua"). The mysterious Waikiki Serenaders assist once again.
In an embarrassment of romantic riches, Mona and Val duet for us one more time on Charles E. King's "Ke Kali Nei Au" (sometimes called the "Hawaiian Wedding Song" but which has nothing to do with marriage – hence the "fake" label often ascribed to it). But it is as real as it gets in the hands of this duo. This was the second thing I ever heard Auntie Mona sing as it is on the flip side of Waikiki Records LP Luau At Queen's Surf (which, for the record, despite the festive cover and the recipes, was not a live album and was not recorded at the Queen's Surf supper club which once graced Kapahulu on the Diamond Head end of Waikiki). "Ke Kali Nei Au" was but one aria from the 1925 Charles E. King opera "Prince of Hawai`i" and was debuted both on stage and on record by Helen Desha Beamer and Samuel Kapu. And although she doesn't know it yet, I am going to implore Auntie Mona to duet with me on this classic this evening when I accompany her at the documentary film debut.
And the closing number is most fitting and timely since the Aloha Festivals just came to a close a few weeks ago. Once upon a time only a week long and contained to only the island of O`ahu, "Aloha Week" festooned into a lei of love, laughter, and culture that once spanned Maui, Kaua`i, and Hawai`i (before recently being scaled back again). "It's Aloha Week Once More" was written for one of the early festivals.  I cannot claim to have heard this recording before embarking on writing this article. I was discussing Mona Joy with fellow Hawaiian music enthusiast, record collector, and DJ Norm Markowitz, and while rattling off Mona Joy titles, Norm asked, "You have Aloha Week, right?" I said, "No," and it miraculously appeared on my doorstep to complete this piece to honor Auntie Mona. Then, on scouring my vast collection, I located "Aloha Week" filed under the name of the artist on the flip side.
I hope you enjoyed hearing these rarities from the Hawaiian Room's grande dame Mona Joy who is still going strong with microphone in hand and who – like fine wine, to overuse a cliché – only gets better with each passing year. But this is not the sum total of Mona's discography. In true Ho`olohe Hou fashion, there must be another rarity in the vaults that perhaps even the artist herself hasn't heard in over 50 years. But we will make sure you – and Auntie Mona – hear it soon.
Next time: The lost Mona Joy full length LP, recorded in NYC with another mystery cast of musicians – in 1959, as the Hawaiian Room days were coming to a close…