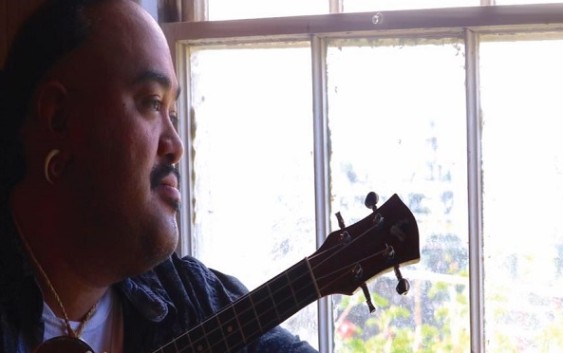 Celebrating Alii Keanaaina's new release — Music and Me — all month long…
A few days ago – on the evening of Thursday, January 28th – I had the privilege of hearing a musician I had never heard before on one of my "must watch" Hawaiian music programs, Pakele Live. It takes a lot to impress me. It really does. But I listened to this gentleman, and I heard beautiful and important things – specifically, music that spoke of Hawai`i's past and yet was imbued with the hopefulness of Hawai`i's future. I had to have that CD, and I had to meet the gentleman behind the music. Little did I know that he and I had been Facebook "friends" for many years already. But this humble gentleman from the Big Island is so humble that you would have no idea from his Facebook posts that he was a professional musician with not one, but two CDs to his credit. So I reached out to reintroduce myself and ask if I might get to know him better.
The result? Alii Keanaaina's Music & Me is Ho`olohe Hou Radio's New Release of the Month.
There is much to learn about a performer who is otherwise a very private person. So far all I know is that he hails from Kalaoa on the Big Island and that we have something interesting in common besides our mutual love of Hawaiian music: We were both contestants in the Clyde "Kindy" Sproat Falsetto and Storytelling Contest. (I lost. Keanaaina didn't.) But eager to disseminate his unique approach to Hawaiian music around the world, Keanaaina has accepted my invitation for an interview in the very near future and immediately delivered to me a full copy of his CD in MP3 format via email – one-song-at-a-time. A mixture of Hawaiian-language standards and his own originals, Music & Me features Keanaaina's award-winning falsetto (including "A He Aha," the song with which he earned the prize) and "Ka Wa Hau`oli," a precious duet with another friend, Natalie Ai Kamauu.
Here's hoping that Alii Keanaaina and I become fast friends. And here's hoping you enjoy Music & Me, songs from which you can hear several times a day on Ho`olohe Hou Radio throughout the month of February and which you can purchase now at mele.com.